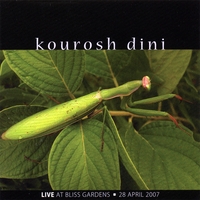 Kourosh Dini is different than most live musicians in Second Life. Unlike most musicians in Second Life, Kourosh doesn't play a guitar, sing, or can be classified as folk music. Instead Kourosh uses the sounds of both piano and synthesizer to create a unique brand of music. It is really hard to categorize his music into a particular genre, it lies somewhere between modern-classical, new age, and meditative music. What makes him further stand out is not the sound of his music but the philosophy, rather than just creating music he's creating an atmosphere or in his words building a better form of communication though it. Kourosh explains how both the piano and the synthesizer both represent two different entities but by combining them he is creating something larger than their individual pieces:
"The piano, to me, represents something that has been around for several generations before our own. We've learned to speak in the language designed by these previous generations to say the things we want to say today. Meanwhile, the synthesizer is a new instrument, designed within the last few decades, and which continues to be refined to explore other thoughts we've yet to say.
The combination of the two describes the play of present day humanity between its ancient skill of spoken language with the new medium of technologies. In some ways it reflects, the evolution of music itself – first as silence, then as sound/rhythm, then as melody. Each step is a modification of the last meant to imbue further meaning and communication."
This statements is echoed in his recent CD, Live at Bliss Gardens, a recorded performance at Bliss Gardens in Second Life that combines both piano and synthesizer sound that mixes and counteracts each other. The performance is a combination of newly improvised music and previous songs (including my favorite Valve) that has been in existence for a few years. The importance of this CD is the improvised music, songs that may or may not be performed after the recording of this CD exactly, but has simpler elements that are repeated or embedded into other pieces. By doing this Kourosh says that his music is similar to the cycles in nature such as with plants and other animals. He ends with the analogy that "[in] A field may have many blades of grass that live and die quickly with a few trees dotting the landscape that grow over the course of years."
Having heard Kourosh's previous work I was always interested with his musical approach and Live at Bliss Gardens does not deviate from that approach. I easily get lost in it (to the point that I place it on repeat listening to the album several times over), each song easily melts into the next, each track presenting a unique ripple. To say that I highly recommend this album is an understatement, this album is a must listen. I could continue speaking about the album, each individual song and my favorite parts, but as Kourosh had told me via e-mail in discussing his music, "I could wax on like this for quite some time. " I could as well.
Live at Bliss Gardens is now available through Kourosh Dini's website (www.kouroshdini.com) or through CD Baby.