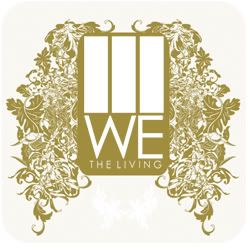 If you were only to listen to the introduction video on their website, it becomes quite clear that this band has a very different approach to their music and philosophy about music. We The Living is an independent, progressive, group that creates a very open and intimate discourse with their fan base and new listeners, all of which is reflected in their music. The mix of guitar, piano and melodic ballads while discussing life related topics really creates a very calming, comfortable and intimate listen.
Early this week I was given the opportunity to see the band perform live only to come away quite content and surprised. Until Monday, I had never seen the band and was introduced to them through a third party through a project that involving Second Life. What struck me as odd was how I was told about their performance, their talented Lead John Paul Roney shot me a message through Facebook. It was not a "please come see my band please" but a "hey we're in the city, lets finally meet in person and come over." It was like receiving a message from an old friend who's in town for a business meeting. Later that evening I'm in the Knitting Factory, listening to their powerful music and meeting the band for the first time. While I've been familiar with the band, I have not been as familiar with their music. Not only was I blown away by their presentation and the intimacy of their live act but it was the shared intimacy that resonated with their crowd interaction and in their sound. There were several interesting revelations, the first was their eagerness to play anywhere which is a part of their plan to perform 250 shows for 2008. The second interesting revelation was their really deep connection with their fan base and how they have leveraged online social networking to build their WE Team, aiding in their promotion, discussion, and venue choices. It is very clear that they have a very important understanding of the current music scene, record companies are losing money trying to recoup it through pop-like, catchy music (not necessarily "good" music.)
"There is literally nobody who has financial interest in YOU hearing new music," John explains on the introduction video on the bands front page, "There are great bands, they are working really hard, there are all over the country, and they would love to for you to hear your music. The problem is that there is no one to show it to them." So, are they worth a listen to? Outside of their engaging, intimate approach to their music and fan base? Yes. Their album "Heights of the Heavens" is a nine track combination of ballads, life stories, breathtaking and soul embracing music. Each track is well thought out, composed, and written which has made is very difficult to write this post without wanting to gush like a crazed fan-boy. To say that We The Living is an amazing listen is an understatement, they are a music experience that is meant to be shared and embraced both on CD and Live.