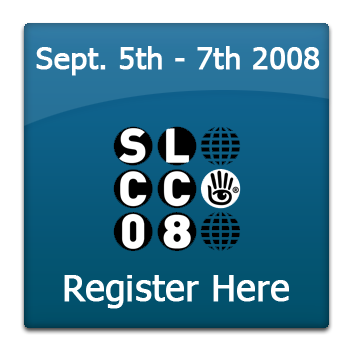 FINALLY!  For the past month I've been working on getting registration up and running for the 2008 SLCC.  Today Registration for the 2008 Second Life Community Convention is now open but only to those who attended last year's SLCC!  Last year we promised that SLCC 2007 attendees will receive tickets, for a limited time, for this year's convention.  Until May 20th, 2008, any person who has registered for the 2007 SLCC may register for the 2008 SLCC at last year's ticket price of $185.00 (or $L 52000).  In order to secure this ticket price, you must register with the same name and e-mail address of last year and pay-in-full by May 20th.
Have no fear, everyone will be able to register on May 21st where tickets will be $220.00.
For more information, visit the SLCC Website.